Archive for Launch
Next Thursday (6th March) from 6.00-7.00pm Angry Robot and Titan/Tor author Adam Christopher will be at London's Forbidden Planet Megastore to sign his latest books:
~ The Burning Dark – paperback (Titan)
~ Hang Wire – paperback (Angry Robot)
~ Hang Wire – limited edition hardback (Angry Robot)
The limited edition hardbacks (our 100th book, folks!) arrived at Angry Robot Mansions, today (see right) and they're fabulous with a variant cover by the Kitschies Award-winning designer, Will Staehle.
The hardbacks (a steal at just £20!) are exclusive to Forbidden Planet, and only 100 have been produced for sale, so get one while you can!
You can pick one up at the signing, or if you can't get there, order one direct from Forbidden Planet.
More cool stuff!
The first 50 people at the signing will also get an exclusive Hang Wire fortune cookie (it ties in with the book – honest!), with up to 4 lucky readers winning an on-the-spot prize!
HANG WIRE
Ted Kane is worried. He's been sleepwalking, and his somnambulant travels appear to coincide with murders by the notorious Hang Wire Killer.
Meanwhile, the circus has come to town, but the Celtic dancers are taking their pagan act a little too seriously, the manager of the Olde Worlde Funfair has started talking to his vintage machines, and the new acrobat's frequent absences are causing tension among the performers.
Out in the city there are other new arrivals – immortals searching for an ancient power – a primal evil which, if unopposed, could destroy the world!
File Under: Urban Fantasy [ Tensile Strength | Dual Identities | The Greatest Show | Bandits ]
Praise for Hang Wire
"The sheer volume of ideas is dizzying… an enjoyably fast-paced read."
SFX Magazine.
"There's a lot going in this genre-bender… Christopher fulfils our expectations and more. Days after finishing the book, you'll still have a grin on your face."
Booklist – starred review
The Book of the Crowman by Joseph D'Lacey, the much anticipated sequel to the popular Black Feathers, is launching on Wednesday 5th March at Blackwell's, Edinburgh.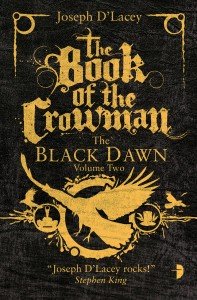 Come along on the 5th at 6.30pm to get your copy signed and chat with Joseph! Tickets are free, and are available from the front desk at Blackwell's Bookshop or by phoning 0131 622 8218.
BLACKWELL'S EDINBURGH PRESENTS JOSEPH D'LACEY: THE BOOK OF THE CROWMAN
Wednesday, March 5th at 18:30
Date: Wednesday 5th of March
Time: 6.30pm
Venue: Blackwell's Bookshop, 53-62 South Bridge, Edinburgh, EH1 1YS
For more information or if you would like a signed copy, please contact Ellie Wixon on 0131 622 8229 or ellie.wixon@blackwell.co.uk