The British Science Fiction Association has announced their long list for the BSFA Awards! We at Angry Robot would like to extend a huge congratulations to all the authors, editors and artists included on the list, and a very special, very huge congratulations to Khan Wong and Ever Dundas as 
The Circus Infinite 
and 
HellSans 
are both nominated for Best Novel!
If you are a BSFA member, voting for the shortlist opens in mid-January on a form available
here
. After the shortlist has been curated, the winners of their respective BSFA awards will be announced during EasterCon, which will take place at Birmingham Metropole from the 7
th
to the 10
th
April 2023.
Learn more about the long list
here.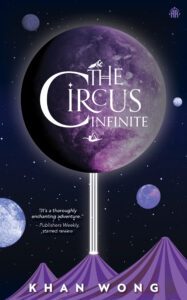 The Circus Infinite
is Khan Wong's debut novel, described by Publisher's Weekly as 'A thoroughly enchanting adventure' in their starred review.
Hunted by those who want to study his gravity powers, Jes makes his way to the best place for a mixed-species fugitive to blend in: the pleasure moon where everyone just wants to be lost in the party. It doesn't take long for him to catch the attention of the crime boss who owns the resort-casino where he lands a circus job, and when the boss gets wind of the bounty on Jes' head, he makes an offer: do anything and everything asked of him or face vivisection.
With no other options, Jes fulfills the requests: espionage, torture, demolition. But when the boss sets the circus up to take the fall for his about-to-get-busted narcotics operation, Jes and his friends decide to bring the mobster down. And if Jes can also avoid going back to being the prize subject of a scientist who can't wait to dissect him? Even better.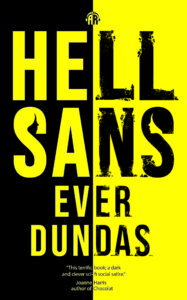 HellSans
is the second novel by award winning author Ever Dundas. In a starred review, Publishers Weekly said it was 'wildly imaginative.'
When every word you read, whatever it says, fills you with euphoric calm – that's HellSans; a typeface used everywhere by the government. To keep people happy. Blissful. And controlled.
Unless you're allergic. And then every word is agony. Then HellSans is hell, and reading it will slowly kill you.
HellSans is the story of two women.
CEO Jane Ward is famous and successful, until she falls ill with the allergy and her life falls apart, dumping her in the ghetto with the other HSAs (HellSans Allergic). Where she meets…
Dr Icho Smith, a scientist who has a cure for the allergy. But she's on the run from the government, and the Seraphs, a terrorist group with their own plan for the HSAs…
HellSans innovative structure allows you to read either Jane or Icho's story first, before their lives meet in the terrifying finale. HellSans is dystopia writ large. A novel where words can kill.