Today is a good day. Today is a great day. Today, we are announcing Angry Robot's…
FIRST EVER GRAPHIC NOVEL!
Liege-Killer: The Graphic Novel
, written by the excellent
Christopher Hinz
, and illustrated by Jon Procter, will be released in June 2019… best summer yet.. am I right?! Hinz's award-winning novel has been stunningly reimagined as a graphic novel and includes an all-new foreword from the author discussing the evolution of
Liege-Killer
and its impact on the genre. For those of you unfamiliar, fear not; here's the synopsis:
Two hundred years after a nuclear apocalypse forced humanity to flee Earth, humans still remember the planet's most feared warriors – the Paratwa, genetically modified killers who occupy two bodies controlled by one vicious mind. The legendary Paratwa named Reemul, known as the Liege-Killer, was the deadliest of them all. Now someone has revived Reemul from stasis and sent him to terrorize the peaceful orbital colonies of Earth. Is this an isolated incident, or just the opening salvo in a plan to take control of the entire human race?
Insane, right? Just to push you over the edge with excitement… CHECK OUT THE COVER! We are convinced that Stephan Martiniere is a creative genius.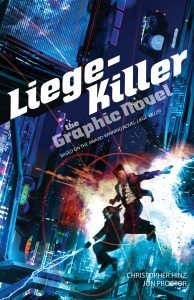 This 'genuine page-turner' is not to be missed (
Locus
magazine), so you'll be sad if you do! To prevent disappointment, pre-order your copy here:
Amazon UK
|
Amazon USA
|
Barnes & Noble
|
Penguin Random House