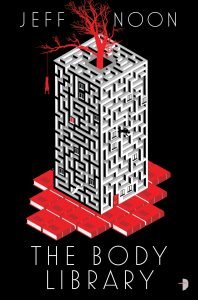 Exciting news from the mainframe! Nominees have been announced this week for the 2019 Philip K. Dick Award, with the list featuring our very own Jeff Noon and his awesome meta-thriller
The Body Library.
The winner will be announced on Friday, April 19, 2019 and you can check out the full list of nominees below…
Time Was by Ian McDonald (Tor.com) The Body Library by Jeff Noon (Angry Robot) 84K by Claire North (Orbit) Alien Virus Love Disaster: Stories by Abbey Mei Otis (Small Beer Press) Theory of Bastards by Audrey Schulman (Europa Editions) Ambiguity Machines and Other Stories by Vandana Singh (Small Beer Press)
Congratulations to all finalists (and especially Jeff)!
The Philip K. Dick Award is presented annually with the support of the Philip K. Dick Trust for distinguished science fiction published in paperback original form in the United States during the previous calendar year. The award is sponsored by the Philadelphia Science Fiction Society and the Philip K. Dick Trust and the award ceremony is sponsored by the Northwest Science Fiction Society. Last year's winner was BANNERLESS by Carrie Vaughn (Mariner/Houghton Mifflin Harcourt) with a special citation to AFTER THE FLARE by Deji Bryce Olukotun (The Unnamed Press). The 2018 judges are Madeline Ashby, Brian Attebery, Christopher Brown, Rosemary Edghill, and Jason Hough (chair).
Head over to the Philip K. Dick Award website for more information and grab your copy of The Body Library from:
Angry Robot | Amazon (UK) | Amazon (USA) | Barnes and Noble