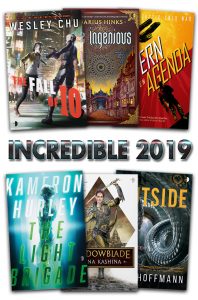 2018 has been one hell of a year, and believe it or not (you should –
trust us, stare into our visor, you will believe
– that's right, now you believe) 2019 is shaping up to be even better! In this last stretch before the new year you need something to look forward to. We give you
Incoming! An Angry Robot 2019 Sampler
, featuring the first three chapters of six astonishing works of science fiction & fantasy from January to June. Oh, and it's FREE!
Incoming!
is free from
all the usual sources
, as well as right
here
on our website. Read the sampler, pre-order the books, know that 2019 is going to be
OK.
[add_to_cart_w_image sku="AR9780857668332″ alignment="Left"]
The Fall of Io by Wesley Chu
: the superb aliens-in-your-head SF sequel to the wildly popular
The Rise of Io
, by the author of
The Lives of Tao
series.
The Ingenious by Darius Hinks
: the squalid, bloody tale of desperate political exiles seeking a way home from the impossible city that imprisons them.
The Bayern Agenda by Dan Moren
: a new Cold War threatens the galaxy, in this fast-paced and wisecracking thriller of spies and subterfuge.
The Light Brigade by Kameron Hurley
: soldiers are broken into light and sent to the frontline of a brutal interplanetary war, in this brilliant military SF from the Hugo Award­­-winning author of
The Stars Are Legion
.
Shadowblade by Anna Kashina
: a young sword prodigy must impersonate a lost princess and throw her life into a deadly political game, in this kinetic epic fantasy novel by the author of the award-winning Majat Code series.
The Outside by Ada Hoffman
: humanity's super-intelligent AI gods brutally punish breaches in reality, as one young scientist discovers, in this intense and brilliant space opera.
---
Pre-order the complete volumes: [product_with_price sku="AR9780857667885,AR9780857667908,AR9780857668202,AR9780857668240,AR9780857668165,AR9780857668141″]