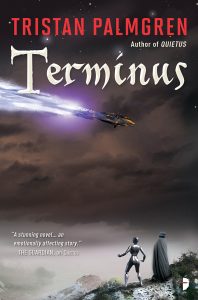 Sink deep into
Terminus,
Tristan Palmgren's
brilliant, serious SF sequel to the critically acclaimed
Quietus
, by reading the first three chapters for FREE on us! "I'm absolutely in love with this book. I love the characters, I love the connection of the plot to the plot of the previous book, I love the DEVELOPMENT. 15/10 would reread a thousand times and none of you can stop me." –
Litcast of Doom
---
The transdimensional empire, the Unity, has dissolved. Its rulers and agents have been exiled, stranded across a thousand planes of existence. Empires don't die gladly. The living planarship Ways and Means has ended the Black Death ravaging medieval Europe, but it has bigger plans for Earth. Someone is trying to kill former Unity agent Osia. Spy-turned-anthropologist Meloku becomes a target, too, when she catches the planarship hiding the extent of its meddling. While they fight to survive, Fiametta – Italian soldier, mercenary, and heretical preacher – raises an army and a religious revolt, aiming to split her world in half.
File Under:
Science Fiction
[ Last Throes | The Saviour | Let It Burn | Crisis of Faith ]
---
---