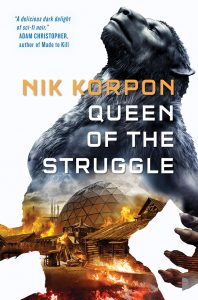 Get back into the war, with the first two chapters of
Queen of the Struggle,
Nik Korpon's
sequel to
The Rebellion's Last Traitor
, free and exclusive, right here.
Overthrowing the tyrannical Tathadann government should have been cause for celebration. But as Eitan City announces its independence, soldiers from the northern province of Vårgmannskjør storm the ceremony and annex the city. The cruelties of the Tathadann soon pale beside the new occupiers' atrocities. Henraek finds himself resettled in the north, in a city where the people seem happy and well… until its labour camps and enslaved spirits come to light. The rebellion must begin anew, in Eitan City and throughout Vårgmannskjør, and now the stakes are higher than ever.
Get reading: