Good morrow, Robot fans. We're currently busy creating the most wonderful 2019 covers for you to feast your eyes on, as you might be noticing from the amount of cover reveal posts we've been publishing! Today's artwork is something a bit special for a cold, autumnal day:
S A Sidor
's
The Beast of Nightfall Lodge
. Created by immensely talented dark artist of the damned,
Dan Strange
, the cover perfectly encapsulates the pulpy goodness of S A's work. We honestly can't wait for you to read
The Beast of Nightfall Lodge
, which is the sequel to May's
Fury From the Tomb
, and will be heading to bookstores in
February 2019
. This time around, our band of intrepid explorers are back as a mysterious billionaire requests their presence at his mountain retreat to uncover the mystery of a large beast roaming the icy tundra. Here's the official synopsis:
When Egyptologist Rom Hardy receives a strange letter from his old friend, the bounty-hunting sniper Rex McTroy, he finds himself drawn into a chilling mystery. In the mountains of New Mexico, a bloodthirsty creature is on the loose, leaving a trail of bodies in its wake. Now, a wealthy big game hunter has offered a staggering reward for its capture, and Rom's patron – the headstrong and brilliant Evangeline Waterston – has signed the team up for the challenge. Awaiting them are blizzards, cold-blooded trappers, remorseless hunters, a mad doctor, wild animals and a monster so fearsome and terrifying, it must be a legend come to life.
To see the cover for
The Beast of Nightfall Lodge
in all its pulpy glory, just click on the teaser image to visit the full reveal over on
The Fantasy Hive
. There's also a pre-order link below, so get those fingers flexing: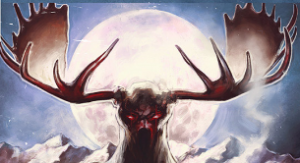 ---