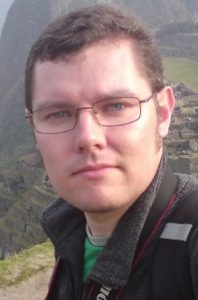 Glasgow! It's
MCM
weekend and we're sure that you're all full of excitement and wonder. And we're going to add to that, by letting you know that
Cameron Johnston
, author of brilliantly disgusting and wonderful grimdark
The Traitor God
, will be along for the ride. Cameron will be taking part in two events with
Ken MacLeod
on Saturday and otherwise hanging out and taking in the con sights. He looks very much like the picture on the right, so if you do see make sure to say hi and demand he signs your books / kindle / face. Here are Cameron's official appearances on Saturday:
12:30 – 13:30
Waterstones
(booth 344) Ken MacLeod & Cameron Johnstone signing
17:00 – 18:00
Live Stage
World Building with Ken MacLeod & Cameron Johnston For more info and tickets, head on over to the official MCM
website
.