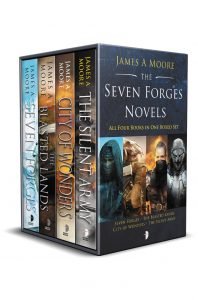 Listen up, fans of
James A Moore
's Seven Forges series –
Seven Forges
,
The Blasted Lands
,
City of Wonders
and
The Silent Army
– our Jim has only gone and written himself a new short story, set in the Fellein Empire. The story takes place at the same time as events in
The Silent Army,
so if you're a fan then you definitely go and read this right now!
---
"The very first rule of sorcery is simply that magic always has a price. Any of the sorcerers who walked the continent could have told a soul that. Sometimes even the wisest of us forget."
On the Wellish Steppes, south of Trecharch, a man watches and waits. Sworn to the god Truska-Pren, Lo'arne challenges all who come his way and remains undefeated, until a stranger appears on the road. Inquisitor for the Fellein Empire, Darksen Murdro, must complete certain rituals on the steppes and no-one can stand in his way. His is a secret and sacred task, for the sleeping dead must be appeased if they are to remain that way. But Darksen himself is being followed. There are many forces at play here, and not all of them wish to keep the Overlords asleep.
---
Intrigued? Then head on over to
James' blog
and read it for yourself. And if you've not read the Seven Forges series, you can now buy all four in a
handy boxset
! Treat yourself, you deserve it.