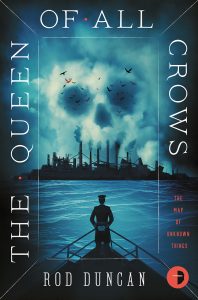 "
The Queen of all Crows
is a smart and entertaining read, among the best of the steampunk subgenre I've read. It continues the story of Elizabeth Barnabus in an alternative history where they take intellectual property protection a little too seriously." –
Craig Newmark
, founder of
Craigslist
and
Craigconnects
"It seems an odd mix of steampunk, supernatural mystery, and intellectual property thriller, but I
like
it." –
Black Gate
"Rod Duncan not only delivers a solid story that you'll enjoy full of action and a well-paced layout but amazing characters as well." –
Science Fiction.com
Has technology halted around you stagnating the world into a victorian-eqsue society? Has your friend gone missing on an airship? Do you have to disguise yourself as a man to hunt down leads? If this has happened to you, you will definitely find solace in
Rod Duncan's
The Queen of All Crows
. And if it hasn't happened to you… well it's a great book anyway! Lucky technology in this world has kept on moving, and on
May 21st
you can download the ebook of
The Queen of All Crows
from
Bookbub
for just 99p in the UK and $1.99 in the US, Canada, and Australia!
The year is 2012 but it might as well be the Victorian age. The nations of the world are overseen by the International Patent Office, and its ruthless stranglehold on technology. When airships start disappearing in the middle of the Atlantic, the Patent Office is desperate to discover what has happened. Forbidden to operate beyond the territorial waters of member nations, they send spies to investigate in secret.
One of those spies is Elizabeth Barnabus. She must overcome her dislike of the machinations of her employers, disguise herself as a man, and take to the sea in search of the floating nation of pirates who threaten the world order.
---
[sale_products_w_price per_page="12″ orderby="date" order="asc"]