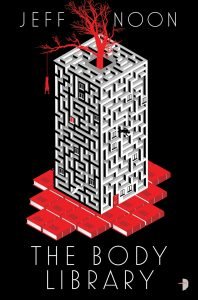 Jeff Noon
is back, and so is detective John Nyquist. This time he's in a new city, and if you thought Dayzone and Nocturna were a bit of a headfuck, you ain't read nothing yet.
The Body Library
is the astonishing sequel to
A Man of Shadows
and you can start reading it for free, right now.
In a city where words come to life and reality is infected by stories, private eye John Nyquist wakes up in a room with a dead body… The dead man's impossible whispers plunge him into a murder investigation like no other. Clues point him deeper into an unfolding story infesting its participants as reality blurs between place and genre. Only one man can hope to put it all together, enough that lives can be saved… That man is Nyquist, and he is lost.
Immerse yourself:
The Body Library
is released worldwide in paperback and ebook in April 2018.