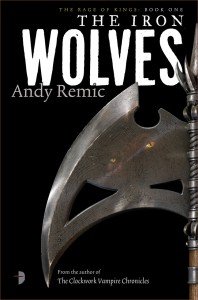 Smash the Monday blues with some hardcore grimdark action:
Andy Remic's
The Iron Wolves
will hack and grind all your suffering into beautiful book tears. Read the first three chapters here, for free, and take control of your week.
Thirty years ago, the Iron Wolves held back mud-orc hordes at the Pass of Splintered Bones, and led a brutal charge that saw the sorcerer Morkagoth slain.
Now, a new terror stalks the realm. Orlana the Changer has escaped from the Chaos Halls and is building an army, twisting horses, lions and bears into terrible, bloody hunters, summoning mud-orcs from the slime and heading north to battle the mighty region of Vagandrak where, it said, the King has gone insane.
General Dalgoran searches to reunite the heroes of old for what he believes will be their final battle. But Dalgoran discovers the Iron Wolves are no longer the heroes of legend, and they might just be more dangerous than the invading hordes.
Enjoy:
The Iron Wolves,
and the sequel,
The White Towers
, are available now.
---
[add_to_cart_w_image sku="AR9780857663566″]