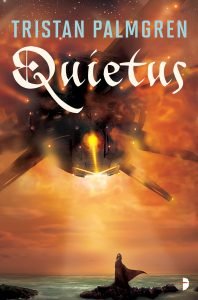 Ready for something extraordinary? Read the first two chapters of the brilliant hard SF debut
Quietus
by
Tristan Palmgren
which mashes up the black death with an awesome intergalactic conspiracy… aww hell – ya gotta read it!
In medieval Italy, Niccolucio, a young Florentine Carthusian monk, leads a devout life until the Black Death kills all of his brothers, leaving him alone and filled with doubt. Habidah, an anthropologist from an alien world racked by plague, is overwhelmed by the suffering. Unable to maintain her neutrality, she saves Niccolucio from the brink of death. Habidah discovers that neither her home's plague nor her assignment on Niccolucio's ravaged planet are as she's been led to believe. Suddenly the pair are drawn into a worlds-spanning conspiracy to topple an empire larger than the human imagination can contain.
Immerse yourself:
Queen of the Struggle
is released worldwide in paperback and ebook in March 2018.