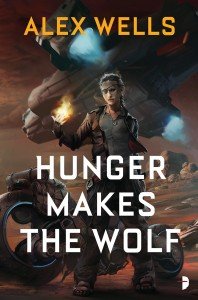 OMFG, you guys! We're so excited to announce that Alex Wells' splendid novel
Hunger Makes the Wolf
has been shortlisted for
The Kitschies'
Gold Tentacle Award! *Glitter cannons pop* The Gold Tentacle is awarded to debut novels which best fit the criteria of progressive, intelligent and entertaining. Previous winners include Tade Thompson's
Making Wolf
and Anne Leckie's
Ancillary Justice
.
Hunger Makes the Wolf
was released in March 2017 and was described as "gritty and engrossing" by Mur Lafferty, "an exhilarating ride" by
Strange Horizons
and "fast, fun and enormously compelling" by
Locus
. The story – dubbed
Sons of Anarchy
, but if it were set on Arrakis – follows Hob Ravani and her mecenary biker gang the
Ghost Wolves
, as they fuck shit up and stick it to the man. There's a great female friendship between Hob and her childhood friend, strange magic, labour politics and did we mention the motorbikes? In short: it's an intelligent, explosive and above all, fun novel that we love, and we're so glad that the judges of The Kitschies do, too! There's also more good news: the sequel,
Blood Binds the Pack
was released this February, so if you've yet to dive into Tanegawa's World there's TWO whole books to read. The winners will be announced on
April 9
at a ceremony in London. We wish the best to all of those shortlisted, but obviously a little more to our Alex. Head on over to The Kitschies
website
to see all of the shortlisted titles.