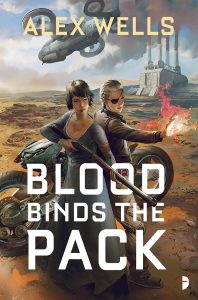 We've been desperate to get back to Tanegawa's World after reading
Hunger Makes the Wolf
, and now you can too – here are the first two chapters of
Alex Wells
' magnificent
Blood Binds the Pack.
War is coming to Hob Ravani's world. The company that holds it in monopoly, TransRift Inc, has at last found what they're looking for–the source of the power that enables their Weathermen to rip holes in space and time, allowing the interstellar travel all of human society now takes for granted. And they will mine every last grain of it from Tanegawa's World no matter the cost.
Since Hob Ravani used her witchy powers to pull a massive train job and destroy TransRift Inc's control on this part of the planet, the Ghost Wolves aren't just outlaws, they're the resistance. Mag's miner collective grows restless as TransRift pushes them ever harder to strip the world of its strange, blue mineral. Now Shige Rollins has returned with a new charge–Mr Yellow, the most advanced model of Weatherman, infused with the recovered mineral samples and made into something stranger, stronger, and deadlier than before. And Mr Yellow is very, very hungry.
Get readin':
Blood Binds the Pack
is released worldwide in paperback and ebook in February 2018. [add_to_cart_w_image sku="AR9780857666482″]