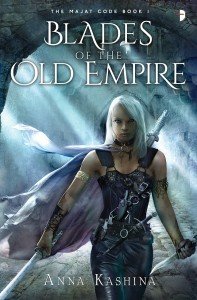 It has come to our attention that some copies of
Blades of the Old Empire
are missing Chapter 49. Corrected copies have been printed and shipped to stores, and all ebook retailers now have the corrected version.
If you bought the ebook, please archive the book on your device and re-download it from the retailer you bought it from. All ebooks stores should now have the corrected version. Details on how to archive titles should be in your device user guide, or if you do not have the guide, Google is your friend.
If you bought the paperback, please return it to the store of purchase. Most stores (including Amazon and other online stores) should now have corrected copies, and will be able to replace your book for you. Some stores might ask for your original proof of purchase, so it's worth a phone call before you visit them.
If you have the paperback, and are unable to return it to the physical store you bought it from, or if they do not have the latest version, please email us at blades@angryrobotbooks.com with a photograph of page 405 of the UK version or page 446 of the North American version. We will then post you a replacement copy, but please note that this will take a week to ten days.
We apologise for the error, and hope you have not been too badly inconvenienced.
Kind regards,
The Team at Angry Robot