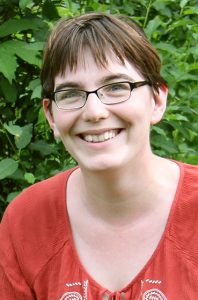 We have new book news!! *Kermit flail* You might have seen that we have a new author making their home the orbital death platform. May we introduce you to Ada Hoffmann! We're bringing you Ada's debut novel,
The Outside
– a brilliant sci-fi where hyper-intelligent AI gods react harshly to breaches in reality – in
June 2019
. Here's the full synopsis:
Yasira Shien didn't mean for her science to tear holes in reality. Or for her new reactor to kill a hundred people. But that's what happened. The AI gods who rule the galaxy want answers. They could execute Yasira for her heretical crimes. Instead, they offer mercy – if she'll help them hunt down a bigger target: her own mysterious, vanished mentor. With her homeworld's fate in the balance, Yasira must choose who to trust, the ruthless gods she was taught to obey without question, or the rebel scientist whose unorthodox mathematics could turn her world inside out.
Head over to the B&N Sci-Fi and Fantasy Blog
for more details on both the novel and Ada
, and a blog post from Ada on her
four favourite awesome autistic protagonists
.