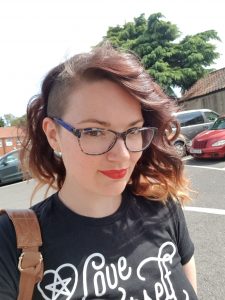 Listen up meaty friends, the other day we had a bit of a shuffle around at Robot Towers and decided we needed some fresh metal. In the most wonderfully Lovecraftian way, we extended our tentacles into the Eldritch void and dragged something bright and shiny back through the æther. That bright and shiny person is Lottie and she started today! The eagle-eyed among you might recognise Lottie as our former intern. After a stint at Black Library we lured her back with offers of tea, cake and maybe even a fancy new office chair. Here's a little more about the woman herself:
Lottie has long decided that being an adult is rather boring, and therefore spends most of the time living in her own universe filled with unicorns, dinosaurs and swords. After taking up an internship with Angry Robot during her MA, she quickly fell in love with the Robot Overlord's brand of fiction. Although she was lured away for a short while, the chip in her brain was activated and she was summoned back to Robot HQ. When not reading vast quantities of books, she spends most of her time in fandom land, watching ice hockey or baking cupcakes covered in glitter.
Lottie will be taking the title of
Editorial Assistant
, formerly our Nick's title. Nick is now only to be referred to as 'Loremaster'. Officially it's Publishing Coordinator but he prefers the former for some reason. Make sure to welcome Lottie to the team over on
Twitter
!