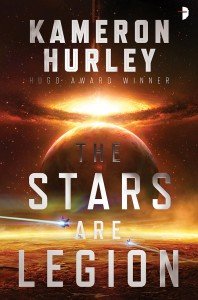 We have some news so incredible it might just wipe your memory and leave you stranded on a dying world-ship in the vast emptiness of space. That's right,
Kameron Hurley
has been nominated for a John W. Campbell Memorial Award for Best Science Fiction Novel for her gory, fleshy, downright meaty book
The Stars Are Legion
!! Although we're excited, we're certainly not surprised, Kameron's work is amazing, dark, and full of women as badass as Kameron herself! If you don't already know, here's a little bit of what the book is about:
Somewhere on the outer rim of the universe, a mass of decaying world-ships known as the Legion is traveling in the seams between the stars. For generations, a war for control of the Legion has been waged, with no clear resolution. As worlds continue to die, a desperate plan is put into motion.
The award is presented by the nice folks over at the Centre for the Study of Science Fiction, and they obviously have amazing taste. Check out the rest of the nominees, as well as the past winners,
here
. The winners will be announced on
June 22nd
. Good luck to all the amazing nominees!