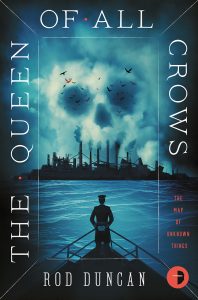 Last night, at a wonderful ceremony in Leicester city centre the Leicester Book of the Year Award was bestowed upon
Rod Duncan
's fantastic novel,
The Queen of All Crows
. The novel follows one of our favourite heroines of all time, Elizabeth Barnabus, from the adventures of The Fall of The Gas-Lit Empire series into this, the start of a new series, as she makes her way across the sea towards America. Part steampunk, part crime, part mystery,
The Queen of All Crows
is a genre-blending novel that hits so many sweet spot it's a natural candidate (in our humble opinion) for awards a-plenty! So we were delighted when Leicester Writes' judges announced Rod as the winner of the Leicester Book of the Year Award. Here's
Rod
, to say a bit about his win and the city which gave him such an honour:
"The road surface got cracked by the frost one winter near my house in Leicester. The crack turned into a pothole, much to the annoyance of drivers. But a couple of inches down, a fine layer of cobblestones was revealed, the surfaces smooth with wear. I started imagining the carriages and steamcars whose wheels had done the polishing. That's where the Gas-Lit Empire novels began.
So I'm thrilled to have won an award bearing the name of this city.
The books have travelled since then. The Queen of All Crows is set half way to America. And the two novels that follow it will complete that journey. But the roots of the alternate history reach back to where it all started.
Leicester is a city that rejoices in its diversity. And there is no doubt that diversity stimulates creativity. The literature scene here is really exciting right now, with many new and powerful voices coming through. There was such an array of great books up for this award that I feel particularly honoured to have won it."
Jonathan Taylor, one of the judges of the award, had these thoughts to share:
"The winner of the 2018 Leicester Book Prize was Rod Duncan, for his novel
The Queen of All Crows
. This was a hugely imaginative, compelling and ambitious work of speculative fiction, which frankly I loved, start to finish. I've never read anything quite like it."
Not read
The Queen of All Crows
yet? Well you're in luck, friend, as you can purchase the ebook
from our website
, or alternatively grab a physical copy from all good book retailers. If you'd like to extend your congratulations, you can find Rod on both
Twitter
and
Facebook
.