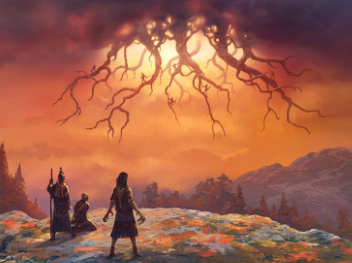 Well, looky here! It seems we have a gorgeous new cover to show you, thanks to that wizard of artistry,
Andreas Rocha.
A Breach in the Heavens
is the third title from
N S Dolkart
's epic Godserfs series, which is full of lush worldbuilding, diverse and well-written characters, mythical creatures and just a smattering of gods trying to mess with the lives of man. It'll be hitting shelves this
October
, fantasy fans, so make sure to pick it up! Here's a little more info, by way of the synopsis:
The End Times have arrived. For over a decade, the sorceress Phaedra has had a single, vital task: to keep the world of the elves separated from humanity's. But when her world experiences its first skyquake, it's clear that something is very wrong. Has all Phaedra's work been for nothing? She'll need a new plan – and her friends' help – to keep the worlds from smashing into each other and shredding all of creation.
Unfortunately, not everyone likes the new plan. To the God of the Underworld, destroying creation doesn't seem like such a bad idea…
If you've yet to read the first two books in the series, Gemmell Award shortlisted
Silent Hall
and its sequel
Among the Fallen
, you can grab each for just £1.99 on our website for the next week – just click the below links: [add_to_cart_w_image sku="AR9780857665683″] [add_to_cart_w_image sku="AR9780857665713″] Here's a couple of reviews to whet your appetite: "Epic fantasy at its most divine." –
Sean Grigsby
, author of
Smoke Eaters
"An excellent debut from a new author. What a lush world of magics and peoples, gods, and dragons. What's more, the author set it all in a patriarchal world, yet delivers some rather feminist notions in a very organic way. Likewise, there are nuggets about racism and even domestic violence, but done so subtly and woven in so smoothly that they don't stand out as such. They just blend in to make a much rounder story that has a lot more to say than the typical medieval-patriarchy fantasy. A delightful surprise, and cleverly done." –
Women of Badassery
"Once again N S Dolkart has achieved an epic tale with an intimate feel because, despite the vast topographical and conceptual canvas, you experience the characters' needs, emotions and concerns." – Strange Alliances
"True and rewarding fantasy at its best." –
Morpheus Tales
And now, take a look below to see the full breathtaking cover for
A Breach in The Heavens
in great detail: