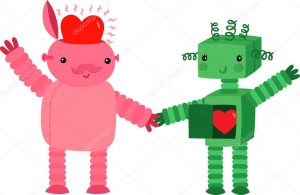 Robot Legion, hail yourselves! We have good news for you: Angry Robot will be starring in its very own ebook
Humble Bundle
! *squees* And, just because we want to show you all how much we love you we're doing it on Valentine's Day – and for the two weeks thereafter – because nothing says love like the warm embrace of a book. If you're not au fait on what Humble Bundle is let us educate you, with this explanation we nicked from its website:
Humble Bundle is a distribution platform selling games, ebooks, software, and other digital content. Since Humble's founding in 2010, our mission has been to support charity ("Humble") while providing awesome content to customers at great prices ("Bundle"). We started by offering only game bundles, but have branched out to include an online storefront, a monthly subscription service, a publishing initiative, and lots more.
As you can see, Humble Bundle offers a portion of the money raised through the promotion to charity, so we've decided on a split between its own nominated charity,
Médecins Sans Frontières
and our favourite SFF not-for-profit,
Worldbuilders
. There are three tiers to the Humble Bundle and the more you pay, the more books you receive. Titles include
The Lives of Tao
,
Embedded
,
Outriders
,
An Accident of Stars
,
Stolen Songbird
and the
Occult Crimes Unit
series. What are you waiting for? Get yourself a good deal and help two wonderful charities while you're at it – just click the link below to buy! Happy Reading!