Contact
You may contact us at Angry Robot in a multiplicity of ways. Our distributor contact details are below too. But before that…
BLADES OF THE OLD EMPIRE
If you wish to contact us about a missing chapter, please click here.
A NOTE ABOUT SUBMISSIONS
Important: If you're considering a submission, please please please read this page first. We've rejected far too many proposals that ignore our guidelines. We do not take physical (paper) submissions at all, and we do not currently take submissions from non-agented or writers unknown to us. Please ensure we don't just throw your submission away, and read these guidelines first.
Talk to the Robots
See below for sales enquiries, bookshop returns requests, and specific editorial contacts. For more general enquiries, please complete and send the following form:
Email Details
If the form isn't working for some reason, you can send a direct email to:
incoming [at] angryrobotbooks.com
Or you can try tweeting us twitter.com/angryrobotbooks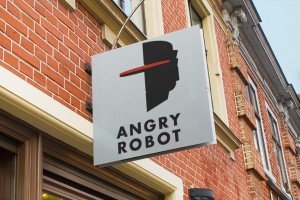 Orbital Stronghold
Angry Robot,
Lace Market House,
54-56 High Pavement,
Nottingham
NG1 1HW
UK
Your Robot Overlords
Marc Gascoigne, MD, Publisher & Art Director: +44 (0) 115 933 8456
Phil Jourdan, Editor: +44 (0) 790 184 8784
Penny Reeve, Marketing Manager: +44 (0) 115 933 8421
(Caroline Lambe is away on maternity leave)
Mike Underwood, North American Sales Manager: 812.606.8098
Retailers
Our UK Head of Sales is Sian Jones of our parent company Watkins: sian.jones@watkinspublishing.com, +44 (0) 797 064 8642
For UK returns authorisations please email enquiries@watkinspublishing.com
Export sales are handled by Emma McArthur of Watkins: emma.mcarthur@watkinspublishing.com, +44 (0) 203 468 0102
We are proud to be sold and distributed around the world by the following partners:
• US/Canada: We are represented and distributed by Penguin Random House.
• UK/Europe: Key accounts are handled by Sian Jones, above; sales representation is by David Segrue Ltd; distribution is by Grantham Book Services (GBS).
• Australia: Simon & Schuster Australia.
• New Zealand: Nationwide Book Distributors.
• Singapore/Far East: Pansing.
• South Africa: Hay House SA (email link for wholesale queries)
Watkins Media
We are an imprint of the very lovely Watkins Media Ltd. Their head office, which includes our accounts, print buying, IT and other support departments, are here:
Watkins Media Ltd
19 Cecil Court
London
WC2N 4HE
UK
Company registration 09171151
VAT number 195 5568 56