Archive for Angry Robot
Peter Tieryas offers a fresh novel set in an alternative post-war world…with robots. The United States of Japan won't hit bookstores until March 2016, but maybe the cover, designed by the wonderful John Liberto, will help fill the gap. It's a perfect match for the book and we're absolutely delighted with it. Here it is!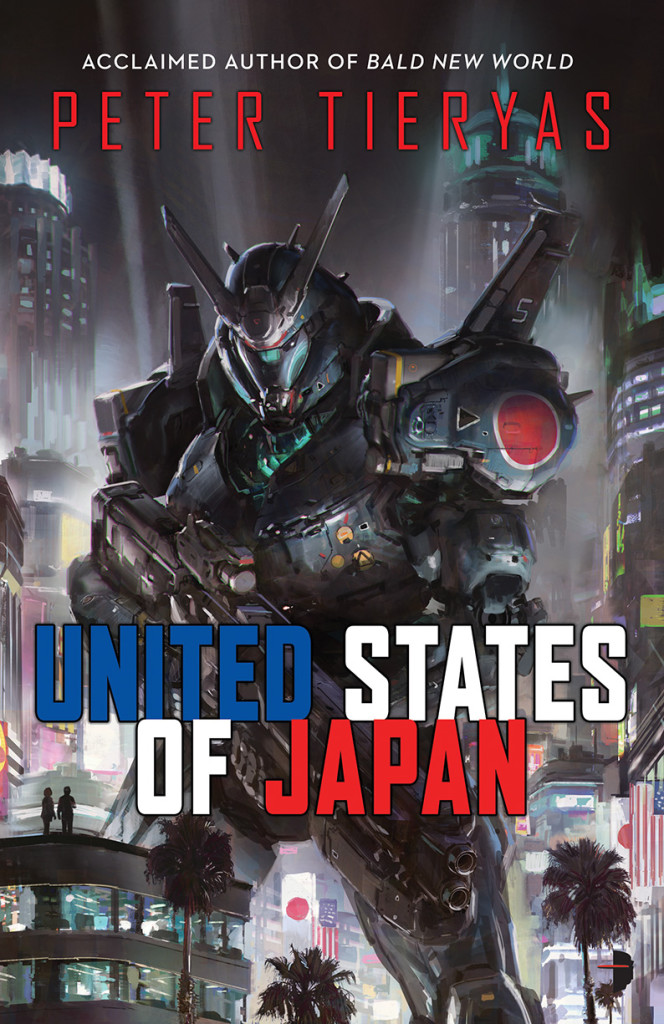 Decades ago, Japan won the Second World War. Americans worship their infallible Emperor, and nobody believes that Japan's conduct in the war was anything but exemplary. Nobody, that is, except the George Washingtons — a group of rebels fighting for freedom. Their latest terrorist tactic is to distribute an illegal video game that asks players to imagine what the world might be like if the United States had won the war instead.
Captain Beniko Ishimura's job is to censor video games, and he's tasked with getting to the bottom of this disturbing new development. But Ishimura's hiding something…kind of. He's slowly been discovering that the case of the George Washingtons is more complicated than it seems, and the subversive videogame's origins are even more controversial and dangerous than the censors originally suspected.
Released: 1st March (US) and 3rd March 2016 (UK)
Here's what Richard Thomas, author of Breaker and Disintegration, had to say about the novel:
"United States of Japan is a powerful book, unsettling at times – surreal and hypnotic. There's a bit of Philip K. Dick in here, and Wind-Up Bird Chronicle, but Peter Tieryas is his own voice, a talented author, somebody to keep an eye on for sure. I loved his last book, bald New World, and I loved this one, too."
The cover was initially released at the Barnes & Noble Science Fiction and Fantasy blog here, and Peter is just as thrilled at the cover as we are; he talks a bit more about his book and the cover in a guest post here.
Peter's first novel, Bald New World, was selected by Publisher's Weekly as one of the Best Science Fiction Books of 2014.