People
The Robot Commanders
Marc Gascoigne
The Managing Director & Publisher; the words and plots and characters and themes, the ethos, the packaging and cover designs and typography. Attn: Can be mouthy. Previously known for The Black Library, Solaris Books, and a bunch of well-dodgy Sonic the Hedgehog books, some of them not even written under a pseudonym. Track him down on Twitter, Facebook or LinkedIn, or listen to his top pop selections on This Is My Jam. Marc won the World Fantasy Special Award (Professional) in 2011 for his work with Angry Robot.
Lee Harris
Angry Robot's Senior Editor. Helps Marco decide what an Angry Robot author looks like, and does more than his fair share of marketing and making the tea. [NB, we don't drink tea.] Nice guy – politer than him, that's for sure. Also publishes a well-known weekly fiction eZine -Hub, reviewed TV shows for the excellent (now sadly defunct)DeathRay Magazine, blogs, reviews and otherwise writes for SFX and occasionally updates his own blog at LeeAHarris.com. He's also a Twitter bod, and the current Chair of the British Fantasy Society.
Amanda Rutter
Editor at our sister imprint, Strange Chemistry. Until recently a tireless blogger at Floor to Ceiling Books, and a freelance editor with Morrigan, Amanda has the YA chops and the insane levels of passion needed to land her one of the most desirable jobs in genre publishing (it says here). Stalk her on Twitter or on the actual, official Strange Chemistry blog and website. Lovely.
Bryon Quertermous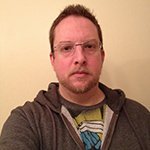 Editor at our mystery/crime imprint, Exhibit A. Bryon Quertermous has over a decade of publishing experience that includes work with traditional stalwarts, such as Random House, as well as more cutting-edge operations like Harlequin's digital-first imprint Carina Press. Bryon has also worked as a freelance editor for New York Times bestselling authors and published the award-winning crime zine Demolition for four years. His short fiction has appeared in several journals of varying repute and his first novel will be published this spring. When not writing or editing, Bryon can be found screaming at his television during football (American) and baseball season or playing Ninja Turtles and My Little Pony with his son and daughter the rest of the year. You can follow his exploits in writing and editing and parenting on Twitter at @bryonq.
Mike Underwood
North American Sales and Marketing Manager. Mike is ideally suited to the task of getting Angry Robot books into the hands of the genre-fiction-loving masses of that area. He has a background in bookselling and publisher sales and has previously worked for the Wybel Marketing Group, representing publishers such as Dark Horse Comics, Night Shade Books, Felony & Mayhem Press, and more to trade and wholesale accounts across the Midwest.  But that's not all: Mike is also a published genre author. His debut novel, Geekomancy is published by Pocket Star/S&S. Check it out, folks. Badger him on Twitter at @MikeRUnderwood.
Caroline Lambe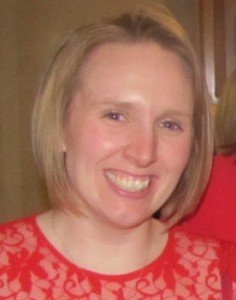 Publicity Manager for all things Robotic, Strange and Awesome. From the stony grey soil of Monaghan, Caroline spent the last 10 years in Galway and Dublin, during which time she gained an MA in Literature & Publishing, and became Publicity Manager for Liberties Press. Having worked with a variety of non-fiction and fiction authors (including leading the campaign of the CrimeFest Last Laugh Award winning title in 2012), now she's only 'excira and delira' to be working in the weird and wonderful world of fiction full-time. When not handling/stalking the media, Caroline can be found playing GAA (google it), relaxing with a book, or watching many, many boxsets. Tweet her here or reach her at caroline [dot] lambe [at] angryrobotbooks [dot] com.