James A. Moore
Seven Forges
1. Seven Forges (October 2013)
2. The Blasted Lands (July 2014)
3. City of Wonders (November 2015)
4. The Silent Army (April 2016)
The Tides of War
1. The Last Sacrifice (January 2017)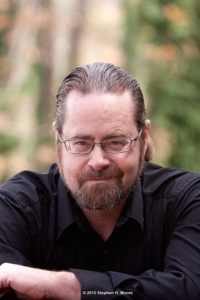 JAMES A MOORE is the award-winning, bestselling, author of over forty novels, thrillers, dark fantasy and horror alike, including the critically acclaimed Fireworks, Under The Overtree, Blood Red, the Serenity Falls trilogy (featuring his recurring anti-hero, Jonathan Crowley) and his most recent novels, The Blasted Lands and City of Wonders both part of the Seven Forges series. In addition to writing multiple short stories, he has also edited, with Christopher Golden and Tim Lebbon, The British Invasion anthology for Cemetery Dance Publications.
Moore's first short story collection, Slices, sold out before ever seeing print. He is currently at work on several additional projects, including the forthcoming The Last Sacrifice, book one in the Tides of War, series. Along with Jonathan Maberry and Christopher Golden, he hosts the Three Guys With Beards podcast and currently he lives in Massachusetts.
Meet him on his blog and @jamesamoore on Twitter.
Interview with Buzzy Mag (Oct 16)
Interview with I Hate Critics (Mar 16) 
Interview with SFF World (Nov 15)
Blog post at The Qwillery (Nov 15)
Interview with The Book Plank (Nov 15)
Interview with Zirev (Nov 15)
Blog post at The Speculative Herald (Nov 15)
Blog post at Dark Matter Zine (Nov 15)
Blog post at Civilian Reader (Nov 15)
Blog post at Bookwraiths (Nov 15)
Article 'A Nuclear Winter in a Fantasy Realm' at a Fantastical Librarian