James A. Moore
1. Seven Forges (World: October 2013)
2. The Blasted Lands (World: July 2014)
3. City of Wonders (World: November 2015)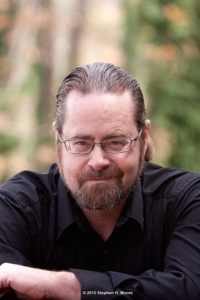 James A Moore is the author of over twenty novels, including the critically acclaimed Fireworks, Under The Overtree, Blood Red, Deeper, the Serenity Falls trilogy (featuring his recurring anti-hero, Jonathan Crowley) and his most recent novels Blind Shadows as well as Seven Forges and the forthcoming sequel The Blasted Lands.
He has twice been nominated for the Bram Stoker Award and spent three years as an officer in the Horror Writers Association, first as Secretary and later as Vice President.
The author cut his teeth in the industry writing for Marvel Comics and authoring over twenty role-playing supplements for White Wolf Games, including Berlin by Night, Land of 1,000,000 Dreams and The Get of Fenris tribe. He also penned the White Wolf novels Vampire: House of Secrets and Werewolf: Hellstorm.
Moore's first short story collection, Slices, sold out before ever seeing print.
He currently lives in the suburbs of Atlanta, Georgia. Meet him on his blog and @jamesamoore on Twitter.
Article 'A Nuclear Winter in a Fantasy Realm' at a Fantastical Librarian