Howdy,
It has been a couple of weeks since our last Robot Round-Up so today we're going to focus on a couple of books that have you all fired up of late, The Singular & Extraordinary Tale of Mirror & Goliath and Flex.
Without further ado:
The Singular & Extraordinary Tale of Mirror & Goliath
It's been described as mad, insane and totally brilliant. However you want to call it, Ishbelle Bee's debut novel, The Singular & Extraordinary Tale of Mirror & Goliath is grabbing the critics' attention and keeping it.
Here are a few choice words from the critics: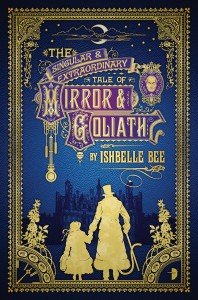 "The Singular & Extraordinary tale of Mirror and Goliath with the intriguing tag-line: 'The Peculiar Adventures of John Loveheart, Esq' – from Angry Robot is Ishbelle Bee's spectacular debut in the speculative fiction world. Just like the peculiar title, the novel itself is a riotous splash of many a familiar fairy tale liberally wrangled with a dash of macabre horror, set during the fag-end of the Victorian Era – An 1880's London rife with the East-end murders, missing children and magic like blood-red poppies floating in the air. It's a sort of the author's love paean to this genre: Bee, the author who loves Victorian Top Hats and Cake Tents incorporates both these elements and a lot more from her favourite era into the novel- beautifully entwining them into a tight little fairy tale of her own. By parts lyrical and scary, it's a gem of a novel that stands apart from other titles in today's world."
– Smorgasbord Fantasia
"This short, dark tale is a treat. It is a fun blend of historical and urban fantasy, and succeeds in keeping our interest throughout the story. I recommend it, and will be reading other stories by Ishbelle Bee."
– Science Fiction & Fantasy Book Corner
"This book certainly captivated me and is a rollercoaster of colour and imagination. I just devoured the text, letting myself be swallowed up into the world that the author has created,  I would love to enter the mind of Ishbelle Bee, to have a little rummage around, check out her fertile imagination, perhaps steal a few drops of inspiration along the way."
– Black Tea & Milk
"This will probably be ranking as one of my favorite books of the year, but I can't tell you a thing about it! I loved every minute of it."
– From My Bookshelf
"It had a whimsical, Neil Gaiman-esque quality (and since I worship Neil Gaiman, this is very high praise). There were moments that would have been confusing if it had been presented by a less-skilled writer, but in Ishbelle Bee's hands, you just accepted it. Lovely, somewhat lyrical, the writing was wonderful."
– Bellsie Books
"I'd recommend this novel to readers in search of whimsical settings and characters, with magical realism and enchanting prose."
– The YLogs
"A penny dreadful fairy tale – delightfully dark, wonderfully wicked, highly original! This is a five out of five stars rating and I hardly ever say that. Bravo Ishbelle Bee!"
– Views & Reviews
"It is a dark and wonderful fantasy story that mixes horror with steampunk and historical elements. I loved it."
– Rickus Bookshelf
"Quite the fantastic read in all ways. Riveting characters that share their own singular voice and world building that takes you to unexpected places. This series will bind you with expectations."
– Koeur's Book Reviews
Flex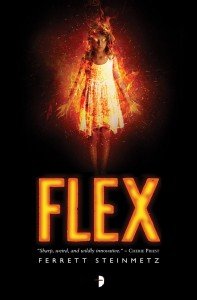 Another reason to be overjoyed this week is that Ferrett Steinmetz's Flex has gained its eightieth (!) five-star rating on Amazon.com. It's always lovely to see people enjoy a book, and the love for Flex is just outstanding!
Here's just a quick reminder of why the book is getting so many great reviews:
"I don't like using exclamation points, but this book deserves all the exclamation points. Look, here's a whole bag! They are to be placed after the words Flex and awesome whenever they appear! Flex! Awesome! Flex! Awesome! Flex!  You get the idea.
"The book's pacing was just right, the information drip satisfyingly steady but with enough mystery to keep me reading. I wanted to find out who would do what and how.  I wanted to know who was going to win. I wanted to know about motivations. I wanted to see some more video game magic. I wanted to read it whenever I had time. If I end up writing a list of my ten favorite books from my last five year's reading, this book is probably going to be on it".
– Book Punks
"This is one of those books that just hit me perfectly."
– Bookaneer
"I loved Flex. All the thumbs up and all the stars checked."
– I, Fat Robot
"Flex by Ferrett Steinmetz may have the most unique fantasy voice I have ever read. There's action, humor, and unique ideas I found myself devouring as fast as I could. At first glance, Tsabo's magic power—bureaucracy seems boring and sterile. But the way he utilizes his powers is both refreshing and hilarious."
– Geekin' Things
"Flex is a clever, funny twist on both the urban fantasy genre overpopulated by werewolves, vampires and hard-boiled sorcerers. But it is also a wonderful deconstruction of the Breaking Bad story of the good man driven to evil by necessity and megalomania, because while Tsabo's story has a similar genesis as Walter White's he never becomes Heisenberg."
– Relentless Reading
"Flex is a weird, funny alternative to a crowded urban fantasy field overpopulated with vampires, werewolves and wizards-for-hire."
– The Nameless Zine
Many thanks to all reviewers we quoted. If you would like to become a member of our Robot Army and get advance review copies, Join ussssss.