The Hellsblood Bride by Chuck Wendig
"Wendig is like a mad scientist when it comes to crafting these hard-bitten,
hard-livin' characters that practically leap off the page and throttle you.
If you're a fan of Wendig already, this book will merely preach to the converted.
If you're not a fan yet, this book will likely fix that."
Wagging the Fox, on The Blue Blazes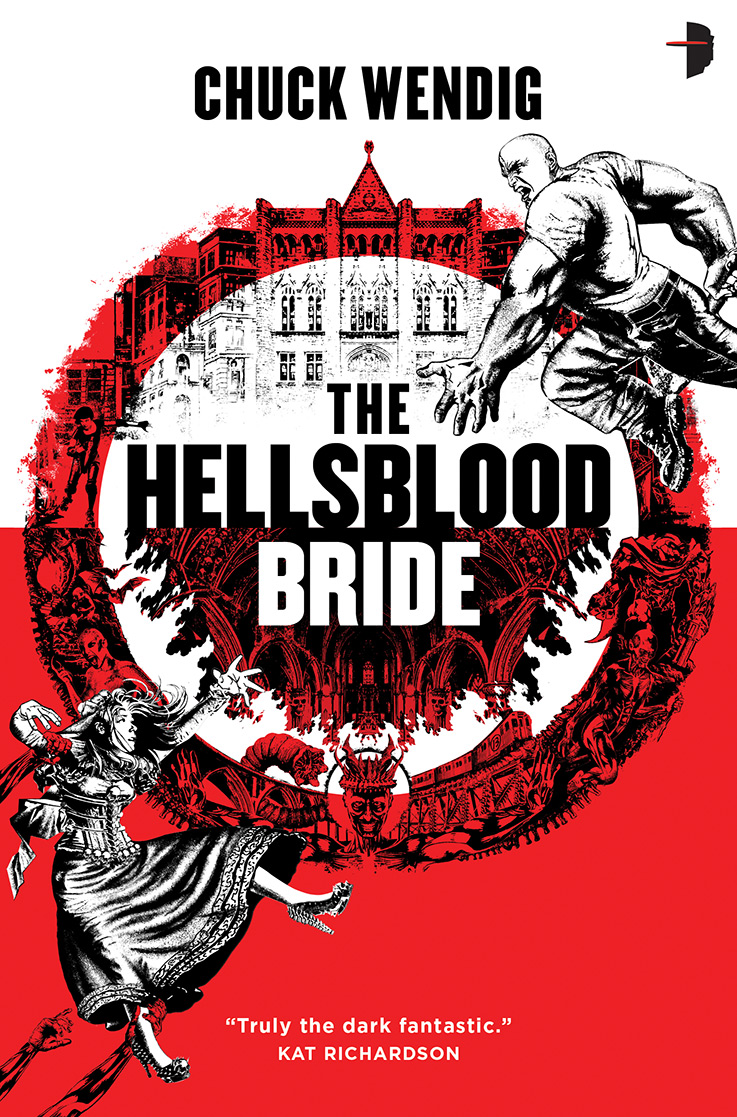 Yes, we're going back deep underground for another twelve rounds with Mookie Pearl.
Father, barkeep, former Mafioso, ruler of his subterranean crime-kingdom. The Organization is back, and they'll do anything to get Mookie on board, but Mookie has gone legit, and it's taking every ounce of effort for him to keep his new bar from crashing and burning.
To top it all, his daughter is missing, and when Nora's not in plain sight, that's usually a sign of bad things to come! On one hand, the Organization. On the other, Nora.
Why can't Family ever be easy..?
File Under: Urban Fantasy
Cover Art: Joey Hi-Fi
(click the cover for a larger image)
Book Info:
The Second Book in the Mookie Pearl Series
UK Print
Date: 5th March 2015
ISBN: 9780857664037
Format: Medium (B-Format) Paperback
R.R.P.: £8.99
North American Print
Date: 3rd March 2015
ISBN: 9780857664044
Format: Small (Mass-Market) Paperback
R.R.P.: US$7.99 / CAN$9.99
Ebook
Date: 3rd March 2015
ISBN: 9780857664051
Format: Epub & Mobi
R.R.P.: £5.49 / US$6.99
More Books in This Series:
1. The Blue Blazes (May 2013)
More Angry Robot Books by This Author:
The Miriam Black Series
1. Blackbirds (May 2012)
2. Mockingbird (September 2012)
3. The Cormorant (January 2014)
Buying Info:
UK Print & Ebook
Amazon.co.uk | Book Depository | Waterstones | WHSmith
North American Print & Ebook
Amazon.com | Amazon.ca | BarnesandNoble.com | IndieBound.org
Global DRM-Free Epub Ebook
On-sale December 30th from the Robot Trading Company
Author Info:
Chuck Wendig: WWW | Twitter | Facebook
Discuss and Share:
Discuss and Review The Hellsblood Bride at Goodreads.com
Read an Extract:
Sample Chapters to follow…
Praise and Reviews for The Blue Blazes:
"The most fun I've had reading a novel in a long fucking time."
– Matt Wallace, author of The Failed Cities
"Chuck Wendig is one of those rare authors with such masterful use of language, and such a good ear for dialogue, that he engages the reader from the first page and never lets go."
– David Brzeski, British Fantasy Society
"There's more action and goo that you can shake a stick at in The Blue Blazes, but at its core is the story of a father's love for his daughter and the lengths he'll go to in order to save her… As brutish as Mookie is, I kinda fell for the big guy, and hope you will too. The Blue Blazes is something very different, very twisted and very, very good."
– My Bookish Ways