The Buried Life by Carrie Patel
"The Buried Life artfully sets a who-dunit murder mystery in a dystopian underground city
filled with dark politics and foul secrets. It's a gripping read from start to finish,
with two clever female leads and a delightfully colorful cast. More, please!"
– Beth Cato, author of The Clockwork Dagger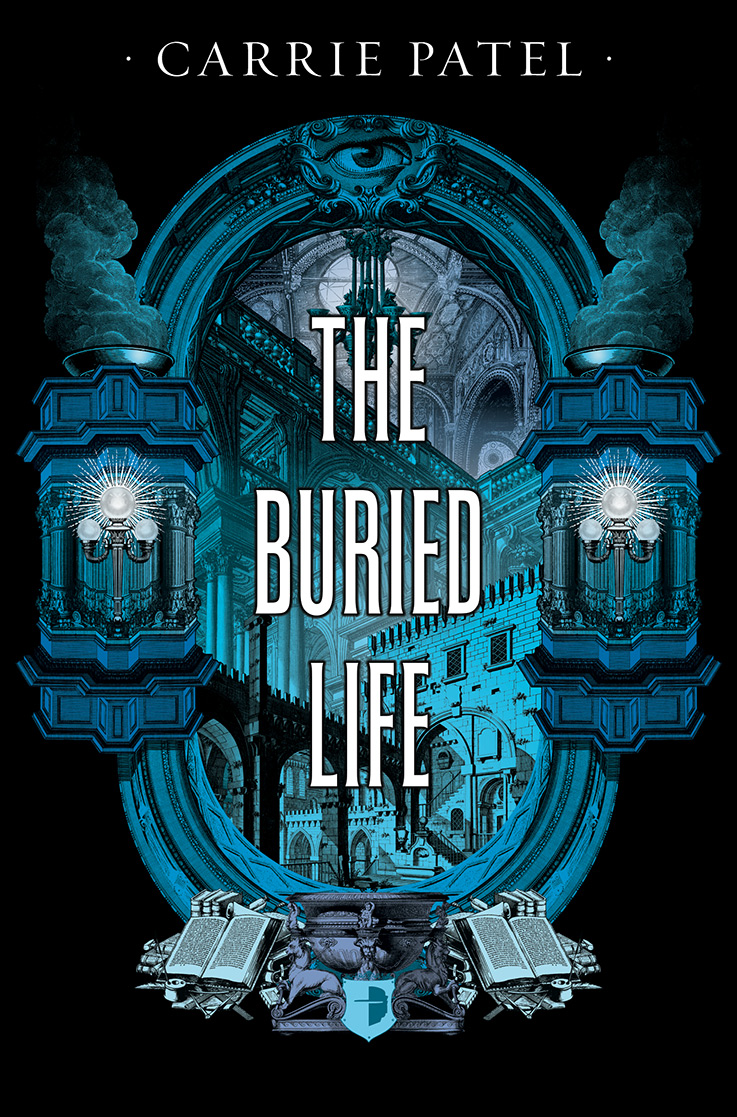 The gaslight and shadows of the underground city of Recoletta hide secrets and lies. When Inspector Liesl Malone investigates the murder of a renowned historian, she finds herself stonewalled by the all-powerful Directorate of Preservation – Recoletta's top-secret historical research facility.
When a second high-profile murder threatens the very fabric of city society, Malone and her rookie partner Rafe Sundar must tread carefully, lest they fall victim to not only the criminals they seek, but the government which purports to protect them. Knowledge is power, and power must be preserved at all costs…
File Under: Science Fantasy [ Thriller | Society in Ruins | Fully Booked | New and Weird ]
Book Info:
UK Print
Date: 5th March 2015
ISBN: 9780857665201
Format: Medium (B-Format) Paperback
R.R.P.: £8.99
North American Print
Date: 3rd March 2015
ISBN: 9780857665218
Format: Mass Market Paperback
R.R.P.: US$7.99 CAN$9.99
Ebook
Date: 3rd March 2015
ISBN: 9780857665225
Format: Epub & Mobi
R.R.P.: £5.49 / US$6.99
More Books in This Series:
2. Cities and Thrones (t.b.c.)
Buying Info:
UK Print & Ebook
Amazon.co.uk | Book Depository | Waterstones | WHSmith
North American Print & Ebook
Amazon.com | Amazon.ca | BarnesandNoble.com | IndieBound.org
Global DRM-Free Epub Ebook
Robot Trading Company
Author Info:
Carrie Patel: www.electronicinkblog.com | @Carrie_Patel on Twitter
Discuss and Share:
Discuss and Review The Buried Life at Goodreads.com
Read an Extract:
Praise and Reviews:
"With Regency-era sensibilities and Agatha Christie's flair for the subtle conundrum, Patel's debut novel introduces readers to a subterranean city of the future, centuries after what is dubbed 'The Catastrophe', and beautifully manages the delicate balance between entertainment and social commentary. The subtly fantastical story is resplendent with surprisingly deep villains, political corruption, and a gripping whodunit feel."
– Starred Review, Publishers Weekly
"The Buried Life is a dark, imaginative steampunk gem – tailor-made for mystery fans and history nerds alike, with plenty of cops-and-robbers to keep you on your toes. This is a very fine contribution to the genre."
– Cherie Priest, author of Boneshaker and Maplecroft
"The Buried Life excels on many levels, quite apart from its presentation of strong female characters: it's a cracking whodunnit with sufficient twists and turns to make Agatha Christie proud, a vivid portrayal of a vibrant multicultural society, and an intriguing love story."
– The Guardian
"Vaguely steampunk-ish but not quite classifiable, The Buried Life is recommended for readers comfortable straddling the border of fantasy and sci-fi; dedicated fantasists and hard sci-fi fans may want to go down another hole."
– Books, Brains, and Beer
"This was a really interesting book. To me it was like the love child of a Steampunk and a Dystopian. Seriously. The setting was fascinating — an underground city, a group of rulers that are more dictators than anything, societal rules, and, of course, murder and mayhem. This book took off running. It was fast paced with a hell of a lot of action — which, coupled with the setting, was right up my alley. And on top of the murders and guns and all that, there were also some interesting characters. The main characters here were all quite fascinating — nuanced, layered, realistic. The world and the characters were fascinating, the plot was fast-paced and action-packed. It was a great read."
– In Case of Survival
"Patel's voice is her own. I was impressed.  Patel's debut novel is definitely worth reading."
– Bookish
"This was a very well written novel. Attention to the logic of not only writing but writing a detective novel was superb. Behind this detecting logic there lurks an obvious perpetrator but you always seem to know that that would be too easy. The fun is in determining the who, and seeing if subsequent events play out in your favor. I like a novel that challenges you AND gives you enough information to figure it out. I loved this novel and look forward to Ms. Patel's next."
- Koeur's Book Reviews
"The Buried Life is one of those books where you get much more than you had bargained for. Carrie Patel introduces the reader to a very interesting world, which besides several explanations only raises many more questions. The whole setting of the book is cleverly build by mixing up several of the established genres, Carrie Patel has created a very unique and intriguing blend. The Buried Life is a high recommendation, you don't come by these types of books very often, great reading stuff."
– The Book Plank
"Carrie Patel has conceived of a dark steampunk-esque yet futuristic world filled with anachronisms that, despite that, work well together. It's as if this world has been cobbled together from past cultures and times, which is not as unusual as it may sound, to make for an underground claustrophobic world that you can almost feel pressing down on your head and soul. And there's a library to die for – what bookaholic could resist? I know I couldn't and I hope you won't either. This is Book #1 in a new series and I'm really looking forward to Book #2!"
– Popcorn Reads
"I really enjoyed the novel, Patel's descriptions are strong and evoke Recoletta quite clearly. The narrative builds up to a clear climax…I can't wait to return to Recoletta. If you enjoy your SFF a bit off the beaten path or genre mashups in general, then I highly recommend giving Carrie Patel's The Buried Life a shot."
– A Fantastical Librarian
"While the story begins as a routine mystery, it quickly develops into something else entirely, and the tone drops more and more often into a darker mood…I think the worldbuilding was my favourite aspect of the book. The story sets up a promising storyline and an interesting world, and I'll be curious to see how the things develop in the city of Recoletta."
– Bookaneer
"One of the best mystery novels I have ever read."
– Avid Fantasy Reviews
"This was a lovely debut and it made for a nice easy read. I'd definitely recommend it as something a little different; a mixture of crime and steampunk, something new from Angry Robot and well worth a read!"
– Uncorked Thoughts
While the murder mystery is tied up nicely, providing a pleasant sense of closure to that part of the book, there are larger events that take over towards the end and set up the stage nicely for the follow-up… I for one will be eagerly waiting to download it to my Kindle on the day of release!
– Ravenous Reader
If you love Steampunk, or Urban Fantasy, grab this book. If you love Post-Apocalyptic Rebuilt Civilizations, grab this book. If you love Empowered Female Protagonists, grab this book. And if you love a well-written, enticing story with a great reader's  hook, well of course, grab this book! I loved it! It's a re-reader and I can't wait for more from author Carrie Patel.
– Mallory Heart Reviews
"Her writing exudes an engaging confidence that makes The Buried Life hard to put down. Patel also shows a gift for pithy dialogue, and her two female leads are both resilient although in different ways".