Dream Stalkers by Tim Waggoner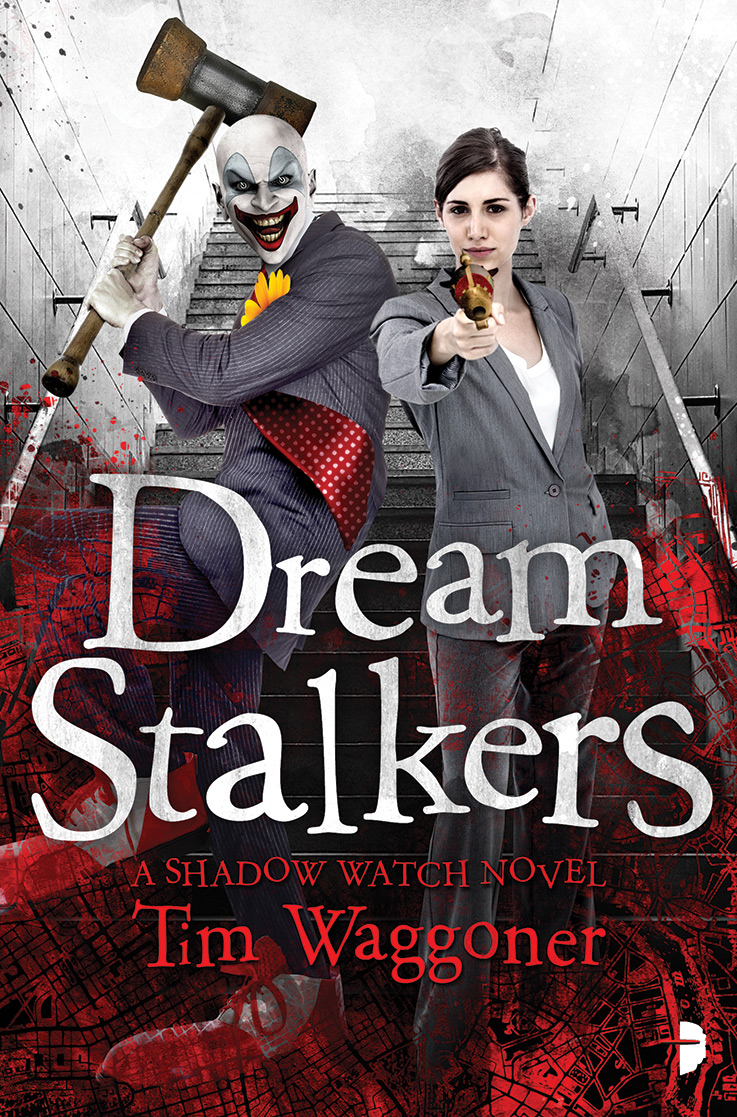 A new drug – Shut-Eye – has been developed in the dreamland, and smuggled into our world. It's addictive, and dangerous, and Shadow Watch agents Audra and Mr Jinx are on the case, preparing new recruits to deal with the problem.
Meanwhile, a wave of ancient, bodiless Incubi are entering the dreams of humans in an attempt to possess them and live new lives. Only the criminally insane would ever risk a confrontation with them.
Thank goodness, then, for Mr Jinx: clown, Shadow Watch agent, psychopath.
File Under: Urban Fantasy [End of the (Dream) World] [A Great Awakening] [Crazy Train] [Shifting Realities]
Cover Art: Amazing 15
Book Info:
The second book in the Shadow Watch series
UK Print
Date: 2nd April 2015
ISBN: 9780857663719
Format: Medium (B-Format) Paperback
R.R.P.: £8.99
North American Print
Date: 7th April 2015
ISBN: 9780857663726
Format: Small (Mass-Market) Paperback
R.R.P.: US$7.99 / CAN$9.99
Ebook
Date: 2nd April 2015
ISBN: 9780857663733
Format: Epub & Mobi
R.R.P.: £5.49 / US$6.99
Other Books in This Series:
1. Night Terrors (June 2014)
Other Angry Robot Books by This Author:
The Nekropolis Saga
1. Nekropolis (August 2009)
2. Dead Streets (March 2010)
3. Dark War (June 2011)
Omnibus: The Nekropolis Archives (May 2012)
Buying Info:
UK Print & Ebook
Amazon.co.uk | Book Depository | Waterstones | WHSmith
North American Print & Ebook
Amazon.com | Amazon.ca | BarnesandNoble.com | IndieBound.org
Global DRM-Free Epub & Mobi Ebook
Available now from the Robot Trading Company
Author Info:
Tim Waggoner: WWW | Twitter | Facebook
Discuss and Share:
Discuss and Review Dream Stalkers at Goodreads.com
Read an Extract:
Sample Chapters to follow…
Praise and Reviews:
"There are moments of Earth-shattering violence, a bit of social commentary, as well as non-stop action.   In the end, all of this insanity makes perfect sense, which actually scares the hell out of me. Here's my recommendation for reading Dream Stalkers , just check your disbelief at the door and enjoy the ride."
– Frank Michael Serrington
"Waggoner's detailed world is so intricate the reader can imagine almost every tangible detail of the Land of Nod, picture the incubi hospital known as the Sick House, and even mentally conjure vehicles such as the Death Mobile.
For kids who grew up with The Addams Family, The Munsters and other twisted fare Dream Stalkers will feel right at home."
– FanGirlNation
"If you like clowns, nightmares, to read about dreams, and the meaning of life; then I recommend you to read Dream Stalkers by Tim Waggoner."
– Open Book Society
"For the fact that this is a book about nightmares, this is a really comic story and the world felt fully imagined. There are a lot of concepts to get your head around, but if you enjoy urban fantasy then I would recommend this series. It is quite fast paced, but I found that there was enough going on without the plot feeling bloated. Where Audra and Jinx go from here, I cannot say, but I figure it will be one hell of a crazy intense journey."
– Fantasy Book Review
"I loved this book — Waggoner's world building is unique and engaging. I loved all of the characters that he created, including the villains."
– Ami's Hoard