Carpathia by Matt Forbeck
"Carpathia is a dangerous collision of rich historical drama and epic horror.
Beautifully written, completely disturbing… and highly recommended."
Jonathan Maberry, New York Times bestselling author
of Extinction Machine and Ghost Road Blues
"Pierces the reader's imagination like fangs into a neck –
or indeed like an iceberg into a hull."
James Lovegrove, Financial Times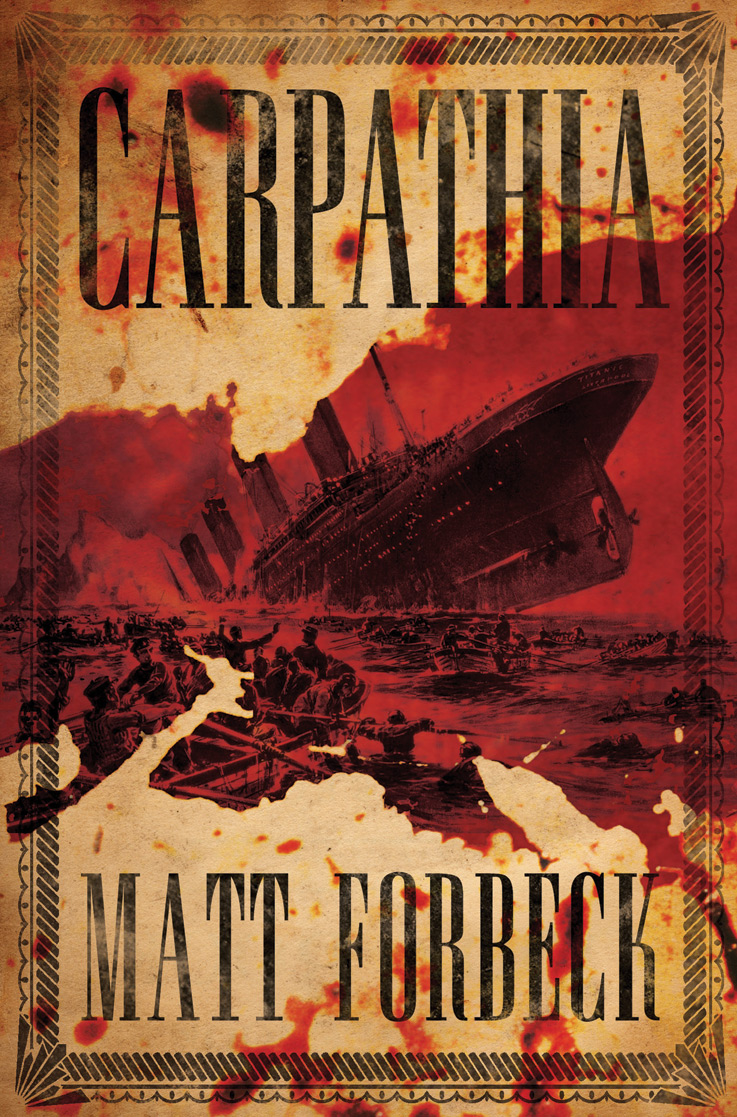 It's Titanic meets 30 Days of Night.
When the desperate survivors of the Titanic were rescued from the icy waters of the North Atlantic by the passenger steamship Carpathia, they thought their problems were over.
But something was sleeping in the darkest recesses of the rescue ship. Something old. Something hungry.
The lucky ones wished they'd gone down with the ship.
File Under: Fantasy
[ Bump In The Night | Unthinkable | Rescue Remedy | 1912 Overture ]
Cover Art: Nick Castle, Castle Design
(click the cover for a larger image)
Book Info:
UK Print
Date: 1st March 2012
ISBN: 9780857662019
Format: Medium (B-Format) Paperback
R.R.P.: £8.99
North American Print
Date: 28th February 2012
ISBN: 9780857662026
Format: Small (Mass-Market) Paperback
R.R.P.: US$7.99 / CAN$9.99
Ebook
Date: 28th February 2012
ISBN: 9780857662033
Format: Epub & Mobi
R.R.P.: £5.49 / US$6.99
Other Angry Robot Books by This Author:
1. Amortals (UK: Nov 2010 | US: Jan 2011)
2. Vegas Knights (UK: Mar 2011 | US: Apr 2011)
Buying Info:
UK Print & Ebook
Amazon.co.uk | Book Depository | Waterstones | WHSmith
North American Print & Ebook
Amazon.com | Amazon.ca | BarnesandNoble.com | IndieBound.org
Global DRM-Free Epub Ebook
Robot Trading Company
Author Info:
Matt Forbeck: www.forbeck.com | @mforbeck on Twitter
Discuss and Share:
Discuss and Review Carpathia at Goodreads.com
Read an Extract:

Read, download, share and embed via Issuu.com
Praise and Reviews:
"Hell comes to the high seas as James Cameron's Titanic crashes full-force into the iceberg that is Bram Stoker's Dracula. Forbeck sinks his fangs into one helluva horror story, robbing from real history to set up an epic showdown between man and vampire (and between vampire and vampire) on the RMS Carpathia."
– Chuck Wendig, author of Blackbirds and The Blue Blazes
"Forbeck effortlessly blends history and horror, the Titanic and vampires, along with adventure and romance, in a fast-paced, chilling novel that moves like a bat out of hell."
– Aaron Rosenberg, author of No Small Bills
"What happens when Bram Stoker hits James Cameron with an iceberg? Carpathia tears a bloody hole in the side of the Titanic legend. It plunges you into the icy waters of horror and holds you under for 300 breathless pages. Chilling!"
– Ken Hite, author of Cthulhu 101
"In Carpathia, Matt Forbeck has taken a why-didn't-I-think-of-that concept and woven it into horror gold! If you like your vampires scary, your plots compelling, and your prose solid, you've got to pick up this book."
– Jeffrey J Mariotte, author of Dark Vengeance and Cold Black Hearts
"King of the Night meets king of the world and it's no contest – Carpathia takes vampires back from the sparkly boyfriends and turns them into fascinating, terrifying monsters again. Forbeck spins a thrilling yarn against the backdrop of one of the 20th century's greatest disasters and makes the iceberg that sunk the Titanic the least scary thing in the North Atlantic that night."
– Richard Dansky, author of Firefly Rain
"Yes, Matt Forbeck went there. He took those poor souls that survived the Titanic's sinking and decided to make their lives a little more terrifying. He mixed history with horror, and probably did it with a sly grin on his face as he typed up Carpathia. Very dark. Seriously twisted. I enjoyed every bit of it."
– James Floyd Kelly Wired.com's Geek Dad blog
"This is a beautifully constructed horror novel with the tension ratcheting up inexorably as night falls on the Atlantic."
– David Marshall, Sacramento / San Francisco Book Review
"Old Skool Vampires! crateloads of 'em! And not a floppy-haired sparkly teen vamp in sight. It reads as a fast paced, action packed tribute to Dracula, and it's no end of fun. Pure crucifix-wielding, stake plunging goodness. With icebergs. Brilliant!"
– Fantasy Nibbles
"…an absolutely amazing read, I rate Carpathia a solid 9/10″
– The Founding Fields
"Mr. Forbeck wonderfully paces his scenes fast and furiously, and builds the plot tension right up to the very end."
– Wesley Chu, Famous Monsters of Filmland
"… reads like a 1920s pulp adventure and can easily be devoured in one sitting … This novel is a hoot and tremendous fun. Definitely worth checking out!"
– Theresa Darwin's Terror-Tree
"…intelligent, well-written and enjoyable fiction that doesn't take itself too seriously without descending into farce. Carpathia is definitely a novel to watch out for."
– Libris Leonis
"Carpathia is a stripped-down thrill ride as humans and vampires are set on a collision course thanks to the accident of an iceberg. It's well worth picking up."
– Opinionator
"These are not the angst-ridden, pedophilic vampires of Twilight fame who glitter in sunlight. These are, if you'll pardon the expression, the real deal."
– Keith West, Adventures Fantastic
"This is a rapidly moving thriller, with plenty of twists and turns along the way, and is one of the most entertaining horror stories I've read in a good long while."
– Ed Fortune, Starburst Magazine
"It's not a relentless disaster orgy of fangs, blood, and people leaping to their deaths or drowning in icy water. It's much more civilised, yet during the quieter passages I was on tenterhooks just as much as I was when the stakes came out."
– Ros Jackson, Warpcore SF
"Carpathia has a couple of gory bits, but mostly it's a study in creepy suspense that delivers a lot of old-fashioned chills. I really enjoyed this book's Edwardian horror shtick."
– The Salted Peanut
"Fans enticed by the premise behind Pride & Prejudice & Zombies and Abraham Lincoln: Vampire Hunter can take solace in the wickedly gleeful Carpathia."
– Benni's Book Biters