Robot Round Up: Most Anticipated 2014
By
Today we thought we'd take a look at some of the books that you're most excited about.
Your Most Anticipated of 2014!
First off, EVERYONE is talking about Peacemaker, the highly anticipated first book in a new science fiction series from Marianne de Pierres. Buzzfeed listed it in their 19 Most Anticipated Science Fiction and Fantasy Books For 2014, and it's been mentioned in Anticipated Books of 2014 posts from Book Plank and Shadowhawk's Shade and, of course, in our own choices for Fantasy Faction. Abhinav Jain says:
"With Angry Robot's Black Dawn series and a few other books elsewhere, I'm now on sort of a post-apocalyptic kick, and Peacemaker promises to do some really unique things. I'm always up for a bit of unique." (Shadowhawk's Shade)
Kirkus Reviews had all of this to say: "[Marianne's] new Peacemaker series promises to combine elements of some of our favorite genres—Western, sci-fi, crime and urban fantasy—and features a park ranger heroine in the last natural habitat in Australia. Need we say more?"
Hang Wire by Adam Christopher is another book that's getting a lot of people very excited. Kirkus lists it in their Best Bets For Science Fiction, Fantasy & Horror Books of January 2014, and it's listed on Book Plank and Fantasy Faction too. Why do we think you should get your hands on this book?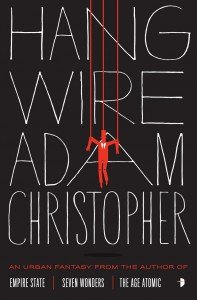 "It has everything: serial killers, gods, demons, a beach-dancing surfer dude, a circus, and exploding fortune cookies!" (Angry Robot, on Fantasy Faction)
Plus, it's already getting fantastic reviews, including a starred review from Booklist!
Blades of the Old Empire, the first book in Anna Kashina's Majat Code series, also makes it onto various lists. Readers are excited about this start to a new fantasy series and intrigued by the setting. Last God Standing by Michael Boatman has also been getting a lot of interest. Readers can't wait to see what the debut novel of Michael Boatman, the actor best known for his roles on Spin City, Anger Management, Gossip Girl, The Good Wife, and Instant Mom, will be like. Plus, this book is serious fun!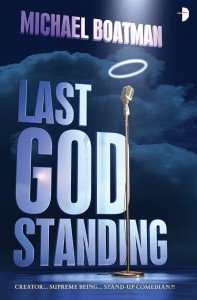 Other highly anticipated 2014 Angry Robot titles include Morningside Fall by Jay Posey, sequel to the popular Three. Readers are looking forward to diving into this world again! Night Terrors by Tim Waggoner is described as Supernatural meets Men in Black, a concept that has a lot of you very excited!
The Iron Wolves by Andy Remic has already been pulling in fantastic reviews, and you can't wait to read this Gemmelesque, gritty new fantasy series. And finally, The Book of the Crowman by Joseph d'Lacey, the sequel to the much loved Black Feathers, is definitely one to watch out for. Abhinav Jain explains why he is eager for The Crownman's release:
"The first book in this series, Black Feathers, was a surprise hit for me. It was a book unlike any other I'd read and if I could, I'd have built a time-machine to read this as soon as I finished Black Feathers." (Shadowhawk's Shade)
Leave a Comment