Robot Round-Up 26.07.13
By
Today's round-up is a celebration of books that are about to hit the shelves and those just out, but first, how about a shout-out for Ramez Naam who got this whopper quote from Publishers Weekly for Crux: "Smart, thoughtful, and hard to drop, this richly nuanced sequel outshines its predecessor with a wide cast of characters and some complicated, uneasy questions about power, responsibility, and the future of humanity." Crux will be published in September, but if this quote has got your attention, how's about you try Nexus in the meantime?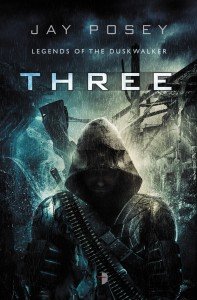 First up for the August titles is  Three by Jay Posey. Jay is currently touring the blogosphere, and with a tour-wide competition catching people's attention, it's looking good for Jay's forthcoming release! Here's some of the sneak peak reviews:
• "The author's distinctive approach to storytelling superimposes a firstly fascinating and finally satisfying dimension upon what could very easily have been a bland book. As is, it isn't. On the contrary, I had all the fun reading Three. Honestly, all of it." Tor.com
•  "If you like your Science Fiction with a dash of "true" Western ideals, this is the character story you need. Strong debut, one of the best of the year, no doubt. And I will admit, it made me tear up a little at the end." Acerbic Writing
• "Three will unplug you! This powerhouse of an apocalyptic read cannot and will not be denied!" My Shelf Confessions
• "Posey has delivered a tale that despite its minimalist approach to world building and exposition has real depth of character and resonance when it could easily have been nothing more than exercise in over the top action scenes, and post apocalyptic set dressing. With more volumes to come in this series, I look forward to see where Posey takes us next, and I'm confident that Three will find itself included in many 'Best of' lists by years end." 52 Review
• "Three by Jay Posey is a high-tech post-apoc adventure story and to be quite honest if you don't run out and buy it right now we are no longer friends." In Case of Survival
• "I would recommend this book to fans of the Loner Anti-Hero type (ala Clint Eastwood).  It was interesting and provided many mysteries.  I feel like Posey is on the edge of writing something "New", "Different", and "Deep".  I look forward to following him in the future." Being A Big Sandwich
• "Three reminded me a lot of Barnes' Artificial Evil. They both share that Mad Max feel with code running centrally and visibly through the narrative. I'd hazard the recommendation that if you've enjoyed one, you'll enjoy the other. Lastly, grey-area heroes, is there ever anything more interesting? Killers, addicts, liars, runaways. All capable of noble beauty in their own way. I adore this book." Zoe Markham
• "The prose is both sparse and really lovely (at one point he likens a sound to that of shadows sliding over a roof), and I really enjoyed it. Jay Posey might have driven me CRAZY with the lack of information, but he wrote a really great story…I know I'm not going to forget anytime soon." The Book Geek
• "For a debut novel, I thought this was very impressive…with its fast pacing and well-written action sequences, sometimes alternating between the viewpoints of the various characters like you see in movies, creating this atmosphere of danger and suspense." The Bibliosanctum
• "Three is a fantastic piece of post-apocalyptic fiction, seductively subtle, deliciously dark and simply stunning from beginning to end." SFBook.com
Our other August title is the mighty Chris F. Holm's The Big Reap, The Collector Book Three. Following Dead Harvest and The Wrong Goodbye, fans of Chris will agree with these reviews that are coming in, fast and thick:
• "The end of a series is such a bittersweet moment with a series as great as this one. Chris said he wanted to end this strong, he ended it Herculean." Founding Fields

• "Like the first two books, you can read them to gain a better understanding of what it means to be human and moral, to discover one man's path to find his place in the universe even after his death. Or, you can read it for the scaly, furry, freaky things that will chase you right into your nightmares." Criminal Element
• "Holm's prose was very easy to read, almost flying by, and reminiscent of Raymond Chandler's hard-boiled Philip Marlowe stories.  The action is near constant, with breaks here and there for the reader to catch their breath" Being A Big Sandwich
• "My name is Cheffo and I'm a Holm-a-holic. As in the previous two books, the backstory and exposition do not interfere, but rather complement the narrative. I particularly liked the contrast as we watch Sam's character change. And change again. Holm closes The Big Reap by opening a door and giving us a brief glimpse at what might be. I can't fucking wait." Cheffo Jeffo
•  "What really makes this novel stand out is Holm's truly brilliant writing. Whether it be a steamy description of Sam's handler, Lilith, or a battle scene with a horrific monster, Holm truly has a way with words. His incredibly descriptive writing allows readers to feel as though they a part of the story, the scenes and setting taking shape before one's eyes." Jenn's Bookshelves
•  "Like the first two novels, Holm continues with his excellently choreographed action scenes. There's some high octane stuff here involving Thornton having to use his environment to gain advantages. It's a wonder how Holm can make the character so damn confident when he always seems to just barely come out on top. Sam never seems to have a solid game plan and often relies on thinking in the moment – something that keeps the action moving swiftly with consistently unpredictable results. All of these factors leave us with a story that is a real blast to read." Every Read Thing
July's titles were both continuations: Madeline Ashby's iD and Paul S. Kemp's A Discourse in Steel.
If you haven't heard about Madeline and iD, well…I don't know what to say actually, as I've been working Ashby like a robot drone and she has been keeping the internet minions entertained with blog posts, interview, and snap shots! Here's a small snippet of some of her tour work:
Guest Posts
On robot, human and other subjectivities at the Little Red Reviewer
On gender at Uncorked Thoughts
On female writers in the sf and dystopian markets at Escapism
On making non-humans seem human at Civilian Reader
On fear and being unable to go home at John Scalzi's The Big Idea
On the relationship between humans and AI at Violin in a Void
Interviews
My Bookish Ways
The Qwillery
A Fantastical Librarian
Interview with Javier at My Shelf Confessions
10 Questions about iD with Chuck Wendig
i09 featuring iD as one of the SF/F books YOU can't afford to miss!
Functional Nerds Podcast
iD has been keeping the reviewers happy also, to wit:
"iD is not always a happy, easy, or comforting read, but it's certainly an intriguing one, and a refreshingly thoughtful exploration of the themes." Tor.com
•  "With iD Ashby closes out an excellent duology, one that is both thought-provoking and extremely entertaining." A Fantastical Librarian
Paul S. Kemp's July title is the second outing for our hapless heroes Egil and Nix. Following on from their adventures in The Hammer and the Blade, Egil and Nix are acclimatising to retirement when they decide to help out two recent acquaintances, and it doesn't take long for the two to get in over their head!
"Paul S. Kemp provides an entertaining and enjoyable ride through the lives of Egil & Nix. Another strong contender for the most fun book of the year, people who loved their first outing won't be able to put this one down." The Founding Fields
•  "The setting and the style then is pure Sword and Sorcery and all the better for it.  There's no epic quest to save the world here. Rather it's about a tight knit group of people protecting their own… and sometimes stumbling into a dangerous mess. Great fun. You should read it." Eoghann.com
•  "The action sequences are great, swords and sorcery are utilised to the best effect and both seem natural to the characters. I tore through this book in less than a day and I'm positive that you would love it to. I'm really happy to have found a pair of ne'er-do-wells that are engaging, funny and enigmatic, and that I can look forward to joining them on their adventures again." Wilder's Book Review
•  "A Discourse in Steel is a fun thrill-ride that builds on what came before in The Hammer and the Blade, but stands on its own, while teasing things to come. In short, Paul S. Kemp has published another fine sword and sorcery novel." SFF World
Keep an eye out for a brief round-up of our recent titles, coming to the Angry Robot site early next week! Have a great weekend, folks!
Leave a Comment