Angry Robot night at WORD Bookstore!
By
Last week, the Angry Robot army descended upon an unsuspecting Brooklyn, bringing marvelous mayhem in the form of authors Chuck Wendig and TL Costa to WORD Bookstore in Greenpoint.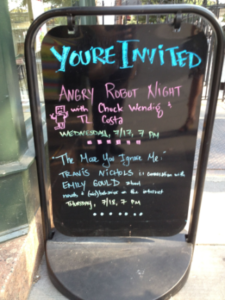 The heat was scorching, but fortunately, our authors are all-temperature models, and were not dissuaded. Chuck Wendig read from upcoming Miriam Black book The Cormorant, and TL Costa read from Playing Tyler.
Literature lovers packed the event space, braving the heat. They were rewarded by an evening of reading, discussion, and camaraderie.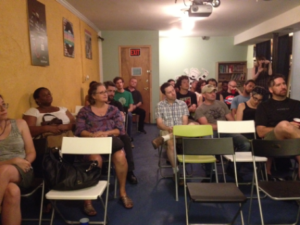 I had the fortune of MCing the event, kicking off the discussion and moderating the Q&A section.
Once the Q&A was done, the authors assumed the position to sign stock and chat with readers individually.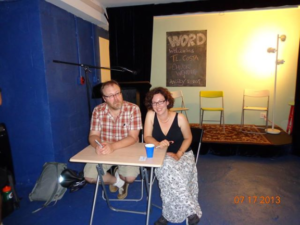 Big thanks to Jenn and C.J., our gracious hosts at WORD Bookstore!
Leave a Comment